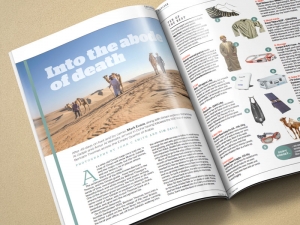 After 49 days on foot and by camel, Mark Evans, along with Omani explorers Mohammed Al Zadjali and Amur Al Wahaibi, arrived in Doha having followed the 1930 trail of explorer Bertram Thomas across the Empty Quarter of Arabia.
As a wise old Omani sage once told me, 'a map of Oman will show Muscat, Salalah and the major roads, but the real stories, and our history, lie in places where there are no roads'.
The achievements of the little known Bertram Thomas, and his Omani guide , have been lost in the sands of time, overshadowed by Wilfred Thesiger's beautiful black and white images and poetic writing. One of the aims of our journey, the first time in 85 years anyone had been given permission to attempt the same route from Salalah in southern Oman, to Doha, the capital of Qatar, was to put Thomas back on a pedestal, and give him the recognition his achievements deserved.