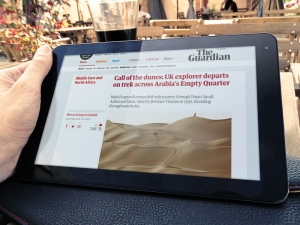 Call of the dunes: UK explorer departs on trek across Arabia's Empty Quarter
Mark Evans will retrace 808-mile journey through Oman, Saudi Arabia and Qatar, taken by Bertram Thomas in 1930, threading through waterholes.
If adventure is the key to happiness then British explorer Mark Evans will be a contented man for the next two months. Having fallen through sea ice on a polar ice cap expedition and been shot at by special forces during a kayaking trip around Bahrain, the intrepid 54-year-old is setting out on his lifelong dream of trekking across the Empty Quarter, or Rub al-Khali, the world's largest sand desert, in the south of the Arabian peninsula.
Along with two Omani colleagues, Muscat-based Evans will retrace the 808-mile (1,300km) journey taken from Salalah in southern Oman to Doha in Qatar by a relatively unknown British civil servant, Bertram Thomas, in 1930. Back then, the main challenges were negotiating a path through fiefdoms controlled by warring tribes and locating water in one of the world's most arid areas, often leaving Thomas wondering if he would make it out alive.